This Riley biography is off
A native of Marion, Iowa, Riley grew up on his family horse ranch and developed a love for riding at a very young age. By the time he was sixteen, Riley had won the American Quarter-Horse Youth World Championship and later became President of the 50,000 member association. But the horse world wasn't Riley's only natural talent. Throughout high school he excelled in athletics and theater.

Upon entering his senior year of high school Riley was urged by friends and various talent scouts to pursue a career in the model and entertainment industries. Never one to turn down a challenge, Riley packed up and made the big move to New York. Undoubtedly Riley made a big impact on the modeling world right away, working for the likes of TOMMY HILFIGER, ARMANI, and PALZILERI. But one of his biggest breaks came when he found himself on billboards in New York City's Time Square for his PACO SPORT campaign. Although modeling was lucrative, Riley decided to follow his dream and focus on his acting career, so Riley left the Big Apple and headed for Hollywood. It would turn out to be a wise move.

Within weeks of his arrival, Riley was cast in the television series pilot "CENTRAL HIGH" and booked several international commercials. He then went on to star in the Doug Liman, European short "SPACE BOY" with Dominique Swain. After that wrapped Riley began working as host of "AMERICAN TEEN VIDEO MAGAZINE."

Over the last year Riley has not slowed down. He went on to star in the film "VOODOO ACADEMY." He also played the starring role of "Michael Lampson" in "LOVERS LANE" and starred as "Josh Harding" in "WILD GRIZZLY" opposite Daniel Baldwin (ALL AVAILABLE AT BLOCKBUSTER VIDEO).

This year Riley played "Todd Shledinger" at McKinnley High School on the short lived NBC comedy series, FREAKS & GEEKS.

Riley also recently played the role of conniving, but mysteriously charming "Tyler Smith" on the highly acclaimed WB series "7th HEAVEN" and has also guest starred this year on NBC's series "HANG TIME," "ONE WORLD", Warner Brothers "MOVIE STARS." and was a series regular on last season's WB Pilot "MINOR THREAT." As if this weren't enough Riley was also cast this season as a regular on the highly regarded WB pilot "LEARNING CURVE." He is currently filming in San Diego Disney's "12th Lap." Look for it on The Disney Channel in February.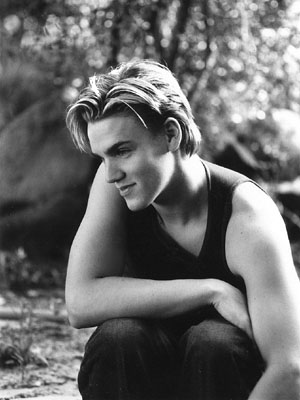 He's so dreamy!!!